For all booking enquiries please contact us using the form below:
Alternatively please email: info@bessesboysband.com or phone: 07955098659
Besses Boys' Band are available for any occassion;
Dinner Partys

Birthday Partys

Garden Partys

Weddings

Fete's and Fairs

Festivals

Christmas Concerts

Parades

Remembrance Services

Funerals

Marches

Community Events

Half time entertainment
Contact us today and find out how we can help you.
This guide is intended to help organisers plan your event to ensure you get the most out of our performance.
We pride ourselves on our reputation and high standard of music and can tailor our repetour to suit your needs. Should you have specific music requests when booking please contact us.
Formal Events
For Formal events the Band will require seating - Chairs without arms are preferred however not essential.
Full Band Booking = 25 Chairs

Half Band Booking = 10 - 15 chairs

Six Piece Booking = 6 Chairs
Caroling and Seasonal Fairs
For caroling and other seasonal fairs smaller ensembles are available and chairs are not typically required.
Marches and Carnivals
For marches and carnivals seating is not required. On public highways road closures should be agreed and in place with local authorities. It is also preferred that routes are stewarded to mitigate risk.
Seating Arrangement
A typical FULL band seating formation is shown below. This seating arrangement can be adjusted to suit individual venue requirements. The band can also perform on tiered stages or adjust to suit smaller venues.
If you are unsure about the suitability of the band at your location please contact us. In most cases a band representative can perform a site visit to assess the performance area and give you peace of mind.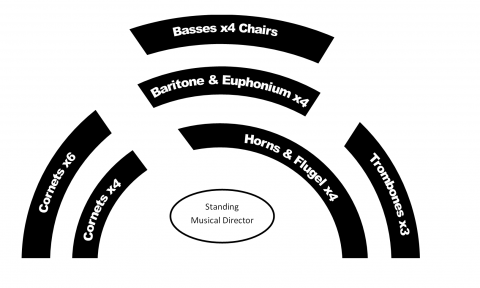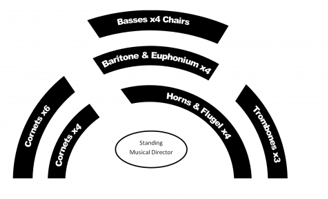 Where possible a back of house room is useful for the band to store instrument cases and serve as a changing room. This room is usually occupied before and after the event as well as during any intervals.
Light refreshments are always welcome - particularly at intervals.
Band members typically travel in private cars. Where possible close vehicular access to the venue for the Band's larger instruments and equipment is appreciated.
Please make the band representative aware of the venue address as well as any loading bays or back stage access locations - Level access is prefered for large instruments and equiptment.
For long distance or overseas events coach parking may be required.
From a practical point of veiw, the ground in a performance area needs to be relatively flat for seated events.
Weather shelters such as bandstands or gazebos provide good protection from the elements. In very severe weather the band may require an indoor performance area.
The band can provide a Gazebo for our performance at additional cost. If you would like to make an enquiry for the Gazebo Hire along with your booking please let us know.
On turf and on other soft ground conditions chairs with thin legs have the potential to sink easily into the ground. A groundsheet in the performance area or hardstanding may be required to avoid this risk.
The band have a busy schedule of concerts and events so please attempt to give a minimum of four weeks notice for event bookings. We are however flexible and may be available to accept bookings at shorter notice subject to availability. Please book early to avoid dissapointment.
The band provide excellent value for money.
Quotes are given on enquiry and payment can be made either prior, on the day by Cash or Cheque, or alternatively post performance by BACS transfer.
Payment terms are applicable for BACS.